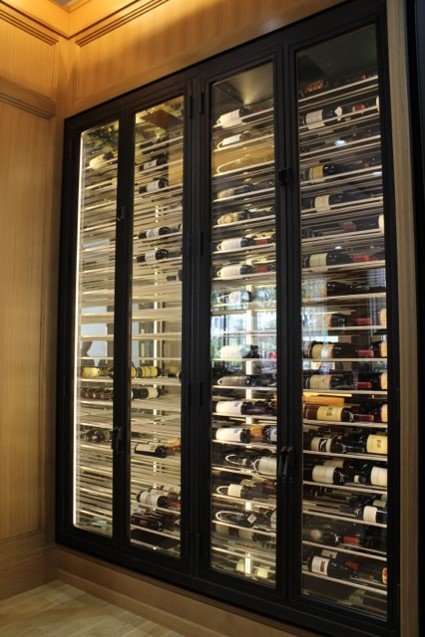 This project was for The Island Hotel located at Fashion Island in Newport Beach Florida. The wine cellar installation had to be designed to be a high profile, high usage, contemporary wine display cabinet. It was constructed with dual pane glass with the intention of being a highly visible and impressive focus within a busy restaurant. The cabinet was designed to improve the restaurant's reputation for quality wines.
Wine Cellar Cooling Services Miami in partnership with Vintage Cellars
Wine Cellar Cooling Services Miami

worked closely with Vintage Cellars who created the core design and installed the racking. We selected and installed the cooling system.
Intended to store and display a high-quality selection of white wines, this wine cabinet had to deliver great looks as well as a high inventory capacity. The required internal cabinet temperature was to be a stable 40 degrees Fahrenheit (4.44 Celsius) whereas the general ambient temperature sometimes reached 80 degrees Fahrenheit (26.6 Celsius).
Commercial Grade Refrigeration Equipment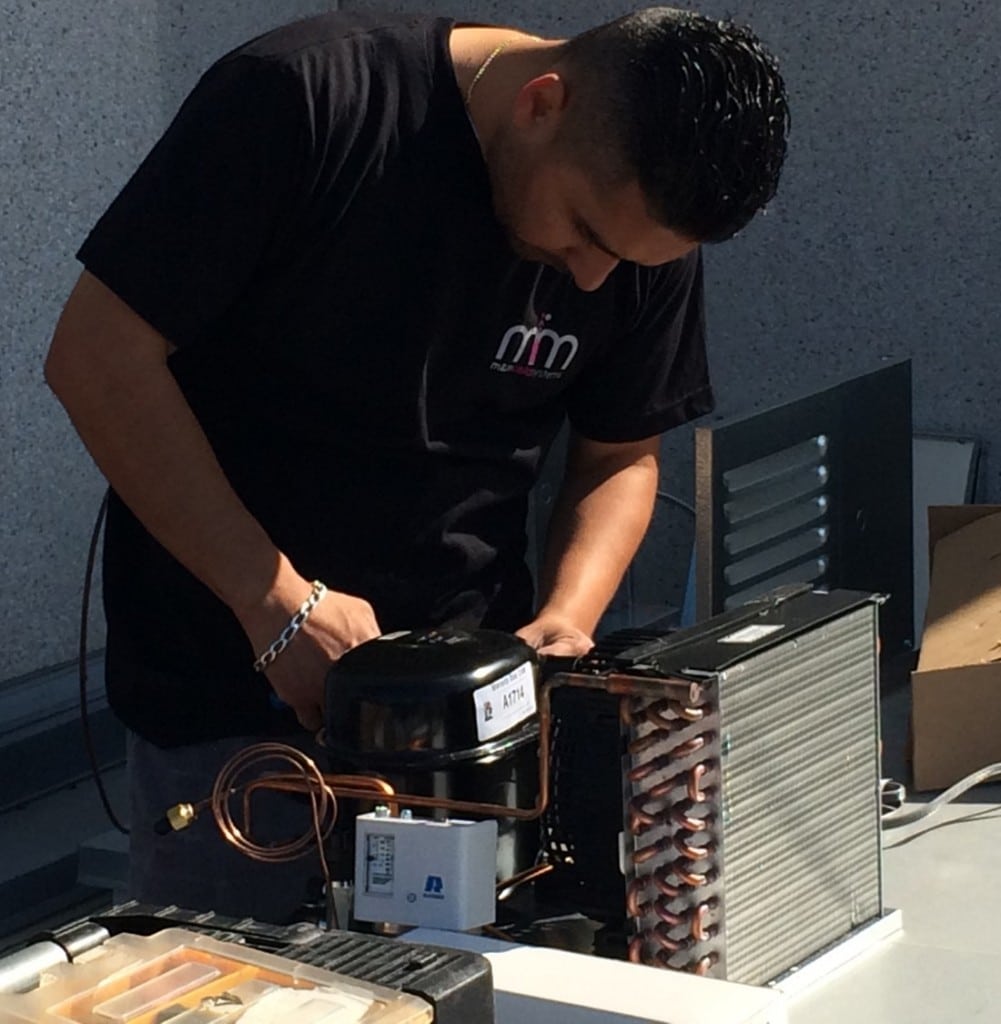 With high usage anticipated, this cabinet could expect frequent access, potentially impacting the internal temperature and humidity. For that reason, it was important to install a solid commercial cooling system that could cope with heavy usage. We, therefore, selected the US Cellar Systems CTE 4600 climate control system.
Given the frequent usage and the location in Newport Beach, think of high humidity.  It was critical to select just the right unit.
The CTE (Cabinet Top External) evaporator is manufactured in rust-proof aluminum and comes with extra insulation in the unit which prevents sweating at higher ambient room temperature levels. Along with many other features, it provides a very low noise profile and an ability to maintain a consistent humidity level. This feature eliminates the need for additional temperature and humidity controls.
The CTE 4600 system as we installed it, consisted of an air-cooled indoor condensing unit. R134 A Freon with a low-pressure switch, fan coil, digital control, and mini-split condensate pump. The evaporator coil was carefully hidden above the cabinet in a separate compartment. Installing the system in this way allowed us to ensure that the mechanical equipment had almost no visibility inside the cabinet itself. The condensing unit was set on the roof of the restaurant, approximately fifteen feet from the coil.
The project took us about three days to complete without any complications. Though it was designed for heavy commercial use, for us it was ultimately a pretty straightforward project.
Take Action and Enjoy…
Next time you are in Fort Lauderdale consider visiting the Island Hotel Restaurant.
While there you can enjoy a meal, and a nice bottle of wine and observe the lack of visibility of the mechanical equipment in the impressive wine cabinet.
Fashion Island is an Italian architectural themed center and a great place to visit if you are in the Newport Beach area.
It is an up-market "lifestyle" area with many department stores and restaurants and a fun place to hang out.
If you have a commercial wine cellar display and storage project go no further than Wine Cellar Cooling Services Miami. Call us at +1 (786) 633-2011 and get your project started today.
Outside of normal business hours? Use our Service Request Form and we'll contact you.