We at Wine Cellar Cooling Services Miami were recently contacted by Vintage Wine Cellars and asked for help on one of their projects. Vintage Cellars is one of the biggest wine cellar builders in the country. Their central office is in Southern Florida and they do a lot of projects in Fort Lauderdale and Miami, regularly asking us to assist with home cellar cooling unit installation.
This impressive wine room was to be built with traditional wood wine racks and modern stainless steel metal rods, merging both old and modern design aesthetics. The entirety of the room would be visible from the outside by large glass walls and doors. This residential wine cellar measures 16 feet wide, 5 feet deep, and 9 feet high.  The total bottle storage capacity is 1,150 wine bottles.
The Wine Rack Designs
Vintage Wine Cellars used a combination of different wine rack designs.  There are single bottle storage racks, horizontal display racks, solid diamond bins, case drawers, and stainless steel metal rods.  The wine rack designs are actually a mix of traditional and modern wine storage styles.
Finding the Best Wood Option
The wooden wine racks are made of Sapele Mahogany.  Mahogany is one of the best wood species, due to its natural beauty, longevity, workability, and compatibility with wood stains.  The stain used for the wooden wine racks is a dark walnut stain, with a clear lacquer finish.
Wine Cellar Doors
A wine cellar door is an essential aspect of wine cellar construction.
A Glass Door That Protects the Wine Cellar's Climate Conditions
In order to maintain the ideal humidity and temperature inside the wine cellar, it must have an air-tight seal.  This is what wine cellar doors are for–they keep wine cellars insulated while providing a method of access.
A Door That Offers Quality Design Elements
Aside from the functional aspects of wine cellar doors, they should also enhance the aesthetic appeal of a wine room. Wine cellar doors can be customized to reflect the style preference and personality of the owner.
Residential Wine Cellar Refrigeration Unit
The residential wine cellar refrigeration unit used for this climate-controlled wine cellar is an SLD split wine cellar cooling system.  This type and model of the cooling unit is ideal for many residential wine cellars.
Initially, the wine cellar cooling unit installation was a bit of a challenge due to the size of the cellar and the all-glass-front.  At least 10,000 BTUs were needed to cool the room down to 55 degrees Fahrenheit.
Wine Cellar Cooling System Design
The first design had a fully ducted commercial grade high static system, which would be installed in the attic.  But it turned out that the attic did not have enough space because the air handler for the house was already kept there. This resulted in a redesign that allowed the evaporator coil of the cooling unit is hidden in the wine racks.
The SLD Split Wine Cellar Cooling Unit
The split wine cellar cooling system by SLD was chosen for this home wine cellar cooling project because of its versatility and functionality.  It is designed for medium to high-temperature wine storage spaces.
The wine cellar cooling systems team installed the cooling unit horizontally and covered it with a louvered grille, which was made of the same wood as the wine racks.
Product Features and Specifications
Main Features
Extremely quiet operation
Low profile
Wall-mounted
Uses R-22 refrigerant
Parts
Evaporator
Condenser
Standard thermostat
Indoor controls
Line set kit
Product Specifications of the Evaporator
Height: 11 and 7/16 inches
Width: 41 and 5/16 inches
Depth: 9 and 3/8 inches
Weight: 26.5 lbs
Capacity: 2,000 cubic feet
BTU: 10200
Electrical requirements: 115V/60 Hz.
Product Specifications of the Condenser
Height: 20 inches
Width: 26 inches
Depth: 20 inches
Weight: 125 lbs
Home Wine Cellar Cooling Services Miami – Specialists in Wine Cellar Cooling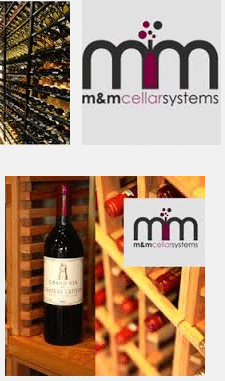 We at M&M are pleased to offer optional products for this cooling unit. These include the outdoor wine cellar condenser enclosure and the Ranco digital thermostat. Both are sold separately.
(Click here to see the installation guide.)
Your Local Refrigeration Company
M&M Wine Cellar Cooling Systems Florida is a family-owned business based in Florida.  We have years of experience in heating, ventilation, and air conditioning (HVAC).
Work With a Contractor That Specializes in Wine Cellars
We're also one of the very few HVAC specialists in Miami and Fort Lauderdale with expert training and experience installing and servicing residential and commercial wine cellar refrigeration systems.
We work closely with a number of local wine cellar dealers like Vintage Wine Cellars who need our expertise to complete their home wine cellar cooling projects.
Contact us now for a free consultation on your wine cellar design and wine cellar cooling unit installation project.